CILQ Q107 FM live
Toronto's rock station!
Now playing:
Playlist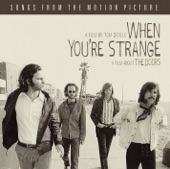 People Are Strange
The Doors
1660397307
Eyes of a Stranger
The Payola$
1660397016
Low
Cracker
1660396745
Rockin' In the Free World
Neil Young
1660396455
Maybe I'm Amazed
Paul McCartney
1660395913
Take the Money and Run
Steve Miller Band
1660395752
Raise a Little Hell
Trooper
1660395522
Behind Blue Eyes
The Who
1660395311
Not Ready to Go (Remastered)
The Trews
1660395120
Boulevard of Broken Dreams
Green Day
1660394870
About CILQ Q107 FM
CILQ-FM branded as Q107 is an active rock format station broadcasting at 107.1 FM in Toronto, Ontario. Q107 also features a streaming audio and a channel on Bell TV. Its transmitter is located atop the CN Tower, with backup facilities located atop First Canadian Place.
"Hard Rock Town" by Murray McLauchlan was the first song aired by the station in 1977. The station declares itself as having a mainstream rock format since 1996. Despite classic rock still makes a good portion of their playlist, the station feels more like a classic hits station, because it has been adding more pop music to their playlist since 2005. CILQ-FM is owned by Corus Entertainment.
Schedule
| Time | Program |
| --- | --- |
| 6 a.m. - 10 a.m. | Derringer In The Morning - With Jennifer Valentyne |
| 10 a.m. - 2 p.m. | Joanne Wilder |
| 2 p.m. - 7 p.m. | Fearless Fred |
| 7 p.m. - 11 p.m. | Dan Chen |
| Time | Program |
| --- | --- |
| 6 a.m. - 10 a.m. | Derringer In The Morning - With Jennifer Valentyne |
| 10 a.m. - 2 p.m. | Joanne Wilder |
| 2 p.m. - 7 p.m. | Fearless Fred |
| 7 p.m. - 11 p.m. | Dan Chen |
| Time | Program |
| --- | --- |
| 6 a.m. - 10 a.m. | Derringer In The Morning - With Jennifer Valentyne |
| 10 a.m. - 2 p.m. | Joanne Wilder |
| 2 p.m. - 7 p.m. | Fearless Fred |
| Time | Program |
| --- | --- |
| 6 a.m. - 10 a.m. | Derringer In The Morning - With Jennifer Valentyne |
| 10 a.m. - 2 p.m. | Joanne Wilder |
| 2 p.m. - 7 p.m. | Fearless Fred |
| Time | Program |
| --- | --- |
| 6 a.m. - 10 a.m. | Derringer In The Morning - With Jennifer Valentyne |
| 10 a.m. - 2 p.m. | Joanne Wilder |
| 2 p.m. - 7 p.m. | Fearless Fred |
| Time | Program |
| --- | --- |
| 6 a.m. - noon | Dan Chen |
| Time | Program |
| --- | --- |
| 6 a.m. - noon | Dan Chen |
| 9 p.m. - 10 p.m. | Records & Rockstars - With Jeff Woods |
Contacts
Website:&nbspwww.q107.com/
Address:&nbsp25 Dockside Drive Toronto, Ontario M5A 0B5
Telephone:&nbsp416-479-7000
Related Stations
Podcasts
Radio Stations by Genre
Twitter