FIP live
Vous n'êtes plus là, vous êtes sur FIP
Now playing:
Playlist
La Libanesa
Los Miticos Del Ritmo
1606884423
Thank You Lucille
Victor Wainwright
1606883973
Osez Joséphine
Alain Bashung
1606883802
Orange Blossom Special
Tangleweed
1606883592
I'm Free
The Who
1606883432
The Man With No Soul (feat. Charlotte Savary)
Wax Tailor
1606883214
Home Sweet Home
Home Sweet Home
1606882977
Dirt In the Ground
L'Orage
1606882687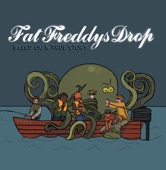 Cay's Crays
Fat Freddy's Drop
1606882277
Damaged Heart
The Tibbs
1606882087
About FIP
FIP (à sa naissance pour France Inter Paris) est une station de radio qui fait partie du groupe Radio France. Sa mission : faire découvrir un univers musical sans frontières. En effet, FIP se revendique comme étant la radio musicale la plus éclectique ne fermant ses antennes à aucun genre ni aucune époque. Sur FIP on peut ainsi écouter de tout, du jazz au rock en passant par le hip hop, le blues, la musique classique ou électronique avec des courtes interruptions uniquement pour faire le point sur les informations routières et culturelles et par un court bulletin d'informations toutes les heures, et sans publicité.
Principaux programmes
Club Jazzafip
Sous le jupes de Fip
C'est Magnifip
Certains l'aiment Fip
Live à Fip
Animateurs Principaux
Jane Villenet
Charlotte Bibring
Frédérique Labussière
Luc Frelon
Stéphanie Daniel
Frequencies
103.5 FM

90.9 FM

103.5 FM

95.7 FM

92.3 FM

99.7 FM

96.7 FM

101.2 FM
Schedule
| Time | Program |
| --- | --- |
| 7 p.m. - 8 p.m. | Club Jazzafip - Jane Villenet |
| 8 p.m. - 10 p.m. | Sous les jupes de Fip - Emilie Blon-Metzinger et Luc Frelon |
| Time | Program |
| --- | --- |
| 7 p.m. - 8 p.m. | Club Jazzafip - Jane Villenet |
| 8 p.m. - 10 p.m. | C'est Magnifip ! - Frédérique Labussière |
| Time | Program |
| --- | --- |
| 7 p.m. - 8 p.m. | Club Jazzafip - Jane Villenet |
| 8 p.m. - 10 p.m. | Certains l'aiment Fip - Susana Poveda |
| Time | Program |
| --- | --- |
| 7 p.m. - 8 p.m. | Club Jazzafip - Jane Villenet |
| 8 p.m. - 10 p.m. | Live à Fip |
| Time | Program |
| --- | --- |
| 7 p.m. - 8 p.m. | Club Jazzafip - Charlotte Bibring |
| Time | Program |
| --- | --- |
| 7 p.m. - 8 p.m. | Club Jazzafip - Charlotte Bibring |
| Time | Program |
| --- | --- |
| 7 p.m. - 8 p.m. | Club Jazzafip - Charlotte Bibring |
Contacts
Website: www.fip-radio.com
Address: FIP 116, av. Président Kennedy 75220 Paris cedex 16
Related Stations
Podcasts
Radio Stations by Genre
Twitter