Classic FM live
The World's Greatest Music
Now playing:
Playlist
The Ashokan Farewell (Album Version 5.55)
Captain JR Perkins & The Band Of Her Majesty's Royal Marines
1656861360
Symphony No. 40 in G Minor, K. 550: I. Molto allegro (Live)
NDR Radiophilharmonie & Hermann Baumer
1656860600
Marchenbilder (Fairy Tale Pictures), Op. 3: I. The Enchanted Princess
BBC Philharmonic Orchestra
1656860290
Overture to Candide
Leonard Bernstein & Bedřich Smetana
1656859900

Oboe Concerto: Adagio
City of London Sinfonia & David Amos
1656859569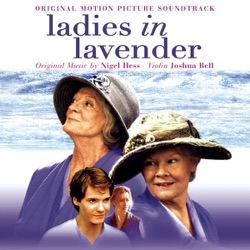 Ladies In Lavender
Joshua Bell
1656859329
Country Gardens
Grainger, P.
1656858929
Ein deutsches Requiem, Op. 45: IV. How Lovely Is They Dwelling Place
John Rutter & The Cambridge Singers
1656858539
Eclogue, Op. 10
Margaret Fingerhut, Ulster Orchestra & Vernon Handley
1656857839
Swan Lake, Op. 20: Waltz
-
1656857358
About Classic FM
Classic FM is an independent national radio in the UK that broadcasts classical music. It claims to be "UK's only 100 percent classical music station" and plays from older music to modern film scores and video game music. This station broadcasts in FM, DAB digital radio, Freeview, satellite, cable television and over the internet.
Classic FM was aired for the first time on 7 September 1992. In its early days the station played producer-selected popular classics. This changed to a selector software with a playlist of 50,000 listed tracks. "Zadok the Priest" was the first track to be broadcast by the station.
Schedule
| Time | Program |
| --- | --- |
| midnight - 1 a.m. | Smooth Classics - With Myleene Klass |
| 1 a.m. - 6 a.m. | Bob Jones |
| 6 a.m. - 9 a.m. | Classic FM's More Music Breakfast - With Tim Lihoreau |
| 9 a.m. - 1 p.m. | John Suchet |
| 1 p.m. - 5 p.m. | Christmas Eve Requests - With Anne-Marie Minhall and John Brunning |
| 5 p.m. - 5:30 p.m. | Aled Jones narrates The Snowman |
| 5:30 p.m. - 7 p.m. | Children & The Arts' Christmas Carol Concert - With Jane Jones |
| 7 p.m. - 10 p.m. | The Story of Carols - With Anne-Marie Minhall |
| 10 p.m. - 1 a.m. | Smooth Classics - With Karthi Gnanasegaram |
| Time | Program |
| --- | --- |
| 1 a.m. - 6 a.m. | Bob Jones |
| 6 a.m. - 9 a.m. | Classic FM's More Music Breakfast - With Tim Lihoreau |
| 9 a.m. - 1 p.m. | John Suchet |
| 1 p.m. - 5 p.m. | Anne-Marie Minhall |
| 5 p.m. - 7 p.m. | Classic FM Drive - With John Brunning |
| 7 p.m. - 8 p.m. | Smooth Classics at Seven - With John Brunning |
| 8 p.m. - 10 p.m. | The Full Works Concert - With Jane Jones |
| 10 p.m. - 1 a.m. | Smooth Classics - With Margherita Taylor |
| Time | Program |
| --- | --- |
| 1 a.m. - 6 a.m. | Sam Pittis |
| 6 a.m. - 9 a.m. | Classic FM's More Music Breakfast - With Tim Lihoreau |
| 9 a.m. - 1 p.m. | John Suchet |
| 1 p.m. - 5 p.m. | Anne-Marie Minhall |
| 5 p.m. - 5:30 p.m. | Aled Jones narrates The Snowman |
| 5 p.m. - 7 p.m. | Classic FM Drive - With John Brunning |
| 7 p.m. - 10 p.m. | The Story of Carols - With Anne-Marie Minhall |
| 7 p.m. - 8 p.m. | Smooth Classics at Seven - With John Brunning |
| 8 p.m. - 10 p.m. | The Full Works Concert - With Jane Jones |
| 10 p.m. - 1 a.m. | Smooth Classics - With Margherita Taylor |
| Time | Program |
| --- | --- |
| 1 a.m. - 6 a.m. | Sam Pittis |
| 6 a.m. - 9 a.m. | Classic FM's More Music Breakfast - With Tim Lihoreau |
| 9 a.m. - 1 p.m. | John Suchet |
| 1 p.m. - 5 p.m. | Anne-Marie Minhall |
| 5 p.m. - 5:30 p.m. | Aled Jones narrates The Snowman |
| 5 p.m. - 7 p.m. | Classic FM Drive - With John Brunning |
| 7 p.m. - 10 p.m. | The Story of Carols - With Anne-Marie Minhall |
| 7 p.m. - 8 p.m. | Smooth Classics at Seven - With John Brunning |
| 8 p.m. - 10 p.m. | The Full Works Concert - With Catherine Bott |
| 10 p.m. - 1 a.m. | Smooth Classics - With Margherita Taylor |
| Time | Program |
| --- | --- |
| 1 a.m. - 6 a.m. | Jane Jones |
| 6 a.m. - 9 a.m. | Classic FM's More Music Breakfast - With Tim Lihoreau |
| 9 a.m. - 1 p.m. | John Suchet |
| 1 p.m. - 5 p.m. | Anne-Marie Minhall |
| 5 p.m. - 7 p.m. | Classic FM Drive - With John Brunning |
| 7 p.m. - 8 p.m. | Smooth Classics at Seven - With John Brunning |
| 8 p.m. - 10 p.m. | The Full Works Concert - With Catherine Bott |
| 10 p.m. - 1 a.m. | Smooth Classics - With Margherita Taylor |
| 10 p.m. - 1 a.m. | Smooth Classics - With Karthi Gnanasegaram |
| Time | Program |
| --- | --- |
| 1 a.m. - 4 a.m. | Katie Breathwick |
| 4 a.m. - 7 a.m. | Bob Jones |
| 7 a.m. - 10 a.m. | Alan Titchmarsh |
| 10 a.m. - 1 p.m. | Bill Turnbull |
| 1 p.m. - 3 p.m. | Alexander Armstrong |
| 3 p.m. - 5 p.m. | Nicholas Owen |
| 5 p.m. - 7 p.m. | Saturday Night at the Movies |
| 7 p.m. - 9 p.m. | Cowan's Classicsc - With Rob Cowan |
| 9 p.m. - 10 p.m. | David Mellor's Light Music Masters |
| 10 p.m. - 1 a.m. | Smooth Classics - With Myleene Klass |
| Time | Program |
| --- | --- |
| 1 a.m. - 4 a.m. | Katie Breathwick |
| 4 a.m. - 7 a.m. | Bob Jones |
| 7 a.m. - 10 a.m. | Aled Jones |
| 10 a.m. - 1 p.m. | Bill Turnbull |
| 1 p.m. - 3 p.m. | Alexander Armstrong |
| 3 p.m. - 5 p.m. | Charlotte Hawkins |
| 5 p.m. - 7 p.m. | The Classic FM Chart |
| 7 p.m. - 9 p.m. | David Mellor |
| 9 p.m. - 10 p.m. | Everything You Ever Wanted to Know about Classical Music |
| 10 p.m. - 1 a.m. | Smooth Classics - With Myleene Klass |
Contacts
Website:&nbspwww.classicfm.com/
Address:&nbsp30 Leicester Square, London, WC2H 7LA
Telephone:&nbsp03457 491812
Email:&nbspCustomer.Support@Global.com
Related Stations
Podcasts
Radio Stations by Genre
Twitter