101 WRIF Rocks Detroit live
Everything That Rocks!
Now playing:
Playlist
Under the Bridge
Red Hot Chili Peppers
1603985149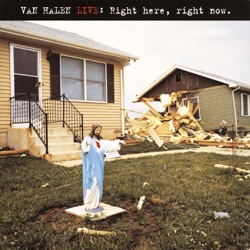 Jump
Van Halen
1603984926
Welcome to Paradise
Green Day
1603984219
I Stay Away
Alice In Chains
1603983990
Hurricane
I Prevail
1603983773
Ain't No Rest for the Wicked
Cage the Elephant
1603983579
Communication Breakdown
Led Zeppelin
1603983017
Nothing Else Matters
Metallica
1603982632
Sound of Madness
Shinedown
1603982406
Paul Revere
Beastie Boys
1603982210
About 101 WRIF Rocks Detroit
101 WRIF is a radio station from Detroit that specializes in broadcasting the best classic and latest Rock music hits since its launch in 1971. It serves Southeast Michigan using the frequency 101.1 FM and it is also available worldwide via online live streaming and podcast. 
Its line-up revolves around the best of Rock music and its subgenres, offering entertainment shows with music as a premise for the shows' good vibes and music shows where DJs can present their playlist mixes to the radio's audience. 
Main shows and DJs/Hosts
Jade Springart
Dave & Chuck the Freak with Dave Hunter, Check, Lisa Way, James and Andy Green
WRIF past personalities
Drew Lane
Anne Carlini
Mike Clark
Schedule
| Time | Program |
| --- | --- |
| 6 a.m. - 10 a.m. | Dave & Chuck the Freak - With Lisa |
| 10:30 a.m. - 3 p.m. | Anne Carlini |
| 3 p.m. - 7 p.m. | Meltdown |
| 7 p.m. - midnight | Screamin' Scott |
| Time | Program |
| --- | --- |
| 6 a.m. - 10 a.m. | Dave & Chuck the Freak - With Lisa |
| 10:30 a.m. - 3 p.m. | Anne Carlini |
| 3 p.m. - 7 p.m. | Meltdown |
| 7 p.m. - midnight | Screamin' Scott |
| Time | Program |
| --- | --- |
| 6 a.m. - 10 a.m. | Dave & Chuck the Freak - With Lisa |
| 10:30 a.m. - 3 p.m. | Anne Carlini |
| 3 p.m. - 7 p.m. | Meltdown |
| 7 p.m. - midnight | Screamin' Scott |
| Time | Program |
| --- | --- |
| 6 a.m. - 10 a.m. | Dave & Chuck the Freak - With Lisa |
| 10:30 a.m. - 3 p.m. | Anne Carlini |
| 3 p.m. - 7 p.m. | Meltdown |
| 7 p.m. - midnight | Screamin' Scott |
| Time | Program |
| --- | --- |
| 6 a.m. - 10 a.m. | Dave & Chuck the Freak - With Lisa |
| 10:30 a.m. - 3 p.m. | Anne Carlini |
| 3 p.m. - 7 p.m. | Meltdown |
| 7 p.m. - midnight | Screamin' Scott |
| Time | Program |
| --- | --- |
| 9 a.m. - noon | Mark & Andy |
Contacts
Website: www.wrif.com/
Address: 1 Radio Plaza Street Ferndale, MI 48220
Telephone: 248-547-0101